Looking at data from the Future of Jobs Report 2018 by the World Economic Forum, it's plain to see the future looks bright for the bots.

"The Fourth Industrial Revolution is interacting with other socio-economic and demographic factors to create a perfect storm of business model change in all industries, resulting in major disruptions to labour markets."


By 2022, across the globe we can expect to see a major workplace shift as vulnerable roles become redundant and new roles emerge. While data entry workers may be quaking in their boots, Supply Chain and Logistics Specialists are feeling pretty cozy, and Process Automation Specialists are set to really shine.

The table below shows examples of stable, new, and redundant roles as a result of the use of automation and artificial intelligence.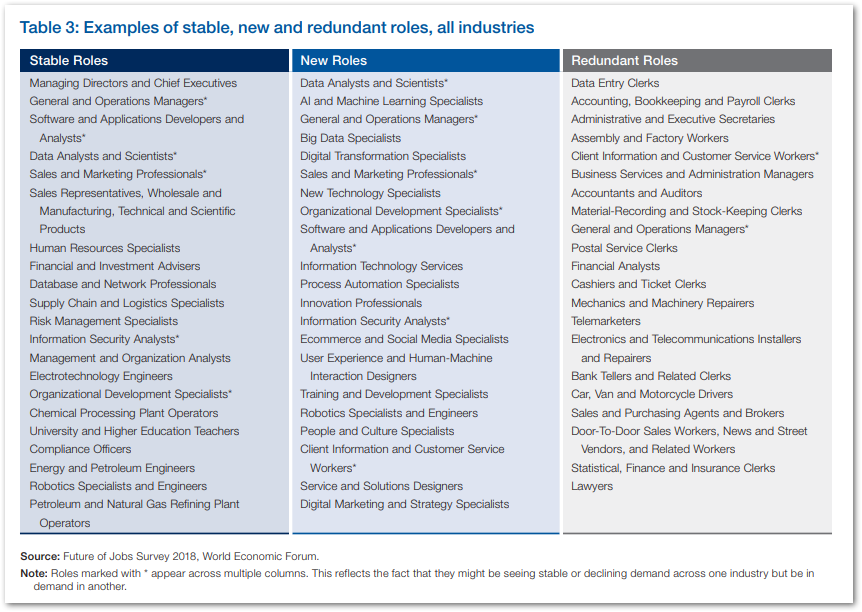 It's not surprising to note that top of the chopping block is Data Entry. Manual, repetitive tasks, and in particular the Distribution and Wholesale sectors, have great potential for robotic process automation.
As this workplace revolution unfolds, your business WILL be impacted. So how to prepare?
As you incorporate automation into your labour pool, it's important to also fortify the staff you've got. Upskill and reskill your workforce:
creativity

innovation

leadership

agile learning

negotiation
– these are the soft skills your people will need as automation transforms the employment landscape.


"New categories of jobs will emerge, partly or wholly displacing others. The skill sets required in both old and new occupations will change in most industries and transform how and where people work."


Even as robots take over more of the data and 'grunt work', we'll need people who can interpret the nuances and analyse the side effects. Is automation uncovering weaknesses in process? Is it exposing data gaps? What do we do about it?
Those distinctly 'human' skills will remain in demand, even increase in importance. Customer service is still best delivered person-to-person.


"Proficiency in new technologies is only one part of the 2022 skills equation, however, as 'human' skills such as creativity, originality and initiative, critical thinking, persuasion and negotiation will likewise retain or increase their value, as will attention to detail, resilience, flexibility and complex problem-solving."
Luckily, your highly skilled staff will have far more time to engage with your customers once their low value tasks are automated. Now is the time to ensure they are ready.
Next month we'll take a look at just who's managing the robots, and what that means for your organisational structure. Subscribe to the blog and we'll let you know when the next one is published.