Picture this ……
You're in an uber heading for the airport. It's 7pm. You're racing to get to the airport to catch the 8pm flight to hopefully be back home by 10 …. you know the feeling?
On the way you get a call from your CEO, Larry, to discuss your presentation at the quarterly review you just attended with your company's leadership team. Larry is not happy with your cost to serve stats, fulfilment is taking too long and the Board are concerned about Amazon coming into the B2B market and eating your lunch like they have done in retail.
It wasn't supposed to be this hard. You had been the 'rock star' for the last 4 years sponsoring your upgraded eCommerce platform. You'd lifted online ordering to 40% with your EDI channel running at 20% supporting your whales. Just over 60% of order processing was now automated! What's bad about that?!
You believed that content, focus and change management would drive online up at least another 25% - all the analysts had forecasted it and had been adamant 'drive the content, personalise it and they will come'. BUT your customers (or least a significant proportion of them) wouldn't budge.
As Head of Operations, you get Head of Sales Sam and Frank your Finance man, as well as Connie who heads up Customer Care, together for a whiteboard session to understand the problem. It doesn't take long looking at your customer segments before the answer is staring you in the face.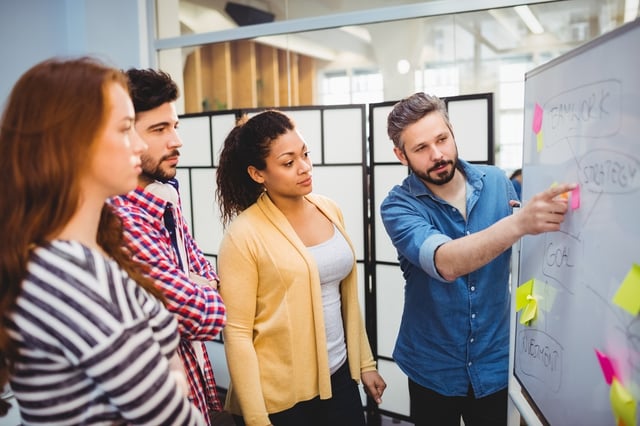 Of course your 'whales' insist on EDI – they have sophisticated forecasting platforms and order centrally and get you to fulfil to their major DCs around the country. Your minnows came onboard pretty easily as they weren't constrained by complexity and procurement standards.
But there it is in black and white (or at least red marker pen on the whiteboard)…….. how could you have missed it…..
...it was staring you right in the face.
Your struggle had been getting your mid-sized customers to deal with you online. Connie explains that this segment sends over system-generated purchase orders. Pretty much all of these guys have their own sophisticated ERP systems and their demand on you is the result of them running reorder reports to generate and email a PDF. Connie's team around the country come in every morning, print out these POs, and enter them as sales orders into your ERP system.
These companies are never going to rekey the order into your eCommerce system. Sure, they'll use your platform to research pricing, content, track orders, do returns and a host of other time-saving processes, BUT there's no advantage in them rekeying an order in your system.
Now back to the real world from our 'picture this' scenario….
Many companies are struggling today to drive down their cost to serve, increase service levels and increase their supply chain velocity. Current digital technologies including EDI and eCommerce only go so far in addressing automating your channels to market. Some customer segments, like those in our example, will never use your eCommerce platform for order entry … but there is hope!
Artificial Intelligence is helping manufacturers and distributors automate their order entry processes. These systems are helping companies cut cost, save time and improve order accuracy.
Now both the present and the future look promising.