With some 13 days 'til Christmas, as I sit here thinking of automated order processing, my mind turns to Santa, reindeer and Santa's helpers…

And it strikes me - this whole Christmas gig is a massive logistics exercise.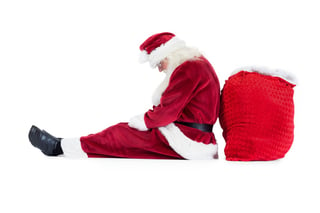 Now of course we know that magic happens on Christmas Eve and Santa makes his run around the world delivering to all the world's children….which by the way, are estimated to be some 1.9 billion kids age 15 and under today.
Being a supply chain guy, my thoughts turned to the question of how Santa gets all that demand into his big ERP (Elf Resource Planning) system so that it can be processed?!
I imagine that he must have a heap of Santa's helpers out there taking the demand and putting it into his system as orders. So of course I tried to crunch the numbers ….. imagine this:
Santa's helpers take a document - let's assume it's a note asking for a particular present.
Let's say it takes on average 60 seconds to look up a child's address and confirm it, check whether the toy is available, and punch it in.
If there are 1.9 billion children, that means it would take 1.9 billion minutes, or 32 million hours, or 4 million work days to punch that demand into Santa's ERP system.
Now let's say that Santa starts taking the demand 3 months out from Christmas.
That means these wish lists would need over 40 thousand elves punching in orders 8 hours a day, every day, for 3 months!
Wow. That's gotta hurt and be costing Santa a LOT of time and money (or whatever he pays the elves in…. mince pies, perhaps??).


The good news is that Santa has a whole year until Christmas rolls around again, so he's got some time to work out his logistics issues.


But what about you?


Do you have any of the same supply chain problems as Santa? How will you address them? And how long do you have?


Your competitors may be asking themselves the very same questions…
So until 2018.... Merry Christmas, everyone.