You might have 100% confidence that streamlining sales order processing will lower your costs, but how do you calculate it?
How much time do you and your admin staff spend working through purchase orders? In our experience in B2B, it's a lot. This is because of the sheer volume of inbound orders that need to be processed. Organisations using legacy systems are spending hours manually inputting data, a process that's not only time-consuming but prone to error. Rectifying those mistakes can also be costly in both time and money.
A recent study found that 100% of managers in finance, sales and procurement agree that it's essential to be able to process orders swiftly and accurately, and yet, the study also found that:
53% of businesses still receive orders in paper form through the mail
51% complain that sales order processing is time consuming
On average it takes more than a week (51.4hrs) to handle paperwork for a single sales order
27% admit sales order processing is error prone
23% admit to misplacing orders
21% state they have no way of measuring the efficiency of the sales order process
41% say handling sales order paperwork distracts them from strategic tasks
Then there's the challenge of having to deal with a variety of different systems. Your customers will all have different methods of managing email and PDF purchase orders. This is not something a B2B business can control, meaning they must spend a great deal of time and resources dealing with how their customers prefer to do business. This can result in:
Hiring extra staff to fulfil/interpret orders
Errors caused by incorrect interpretation of PO data
Sales staff bogged down by admin - limits them from doing more meaningful work
A slow PO process is detrimental for any B2B business. Manual systems and outdated tools can have a negative impact on the sales productivity and bottom line of any organisation, regardless of how efficient they may seem. The reality is that slow, error-prone, manual systems aren't efficient, and any mistakes or delays are going to cause reputational damage.
It's hardly surprising that enterprise-level B2B businesses have dedicated employees to manage a network of suppliers, review and release purchase requisitions, expedite POs and resolve issues.
Have you thought about what this is really costing your organisation, and how you can streamline purchase order management?
Using digital to lower your cost to serve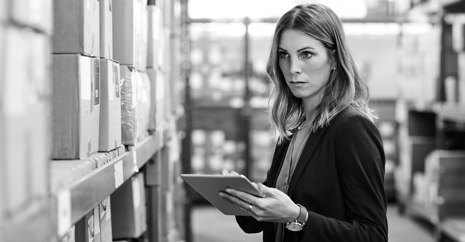 Digital technology is moving rapidly these days. And what it means for B2B businesses is that they're no longer constrained by having to manage their business in alignment with their customers'. It's all about automation.
In today's increasingly digital world, automation is gaining traction as a means of speeding up order processing, reducing errors and freeing up staff to focus on more high value tasks. Automation also allows a B2B organisation to track, monitor and analyse their business costs on the fly. Most importantly, sales order automation technology provides your admin team with greater visibility and control over the ordering process.
Automating your order processing also means significant cost reductions - up to 15%, according to McKinsey, i.e. lowering your cost to serve. Artificial intelligence (AI)-powered automated processing solutions operate against a set of business rules specified by you. An AI-powered system will validate data against information stored in another record and check that sales tax and shipping charges are calculated without errors.
Bringing an automated B2B order processing solution on board and letting technology take over, you're going to see cost and error reductions. You're also going to benefit from preventing the way your customers do business impacting on how you manage yours. What we've noticed however, is that the financial benefit is hard to approximate because sometimes cost-savings are explicit and sometimes they're not as clear cut.
Which brings us back to the original question: How much time do you and your admin staff spend working through emailed PDF purchase orders? And just how much is it costing?
In a world where digital transformation and automation is on the rise, B2B businesses no longer have to spend hours managing emailed PDF POs from a range of different systems. An automated processing solution means that not only will you save time and money, but you're no longer at the mercy of letting your customers dictate how you manage your business.