Stop having to say "that order processing mistake was human error"
You don't need us to tell you that processing purchase orders can be time consuming, frustrating and prone to error. Within the range of your customer base, you're probably receiving POs in a variety of different formats – even email or PDF. If you're reading this, it's probably because despite the attention to detail that PO processing requires, you're still managing most of yours manually.
There are challenges your team has to meet due to receiving POs in differing formats:
The codes and descriptions might not match your ERP or stock management system
The PO might be missing certain details, or some of them are incorrect
Long email chains due to different areas processing incorrect information
What it all comes down to is that at least one person on your team has to decipher all the information on the PO, then interpret it for your ERP system and manually enter the details. Because of the level of human interaction, there's more scope for error. And mistakes are often both time-consuming and costly to fix.
How does automation benefit the PO process?
You've made the sale and received the purchase order – great! But for many B2B businesses the next part is where the fun begins (or pain as the case may be). If your PO processing system isn't solid, it can lead to extra admin, confusion, frustration… and time.

The good news is that there are ways to automate key steps in the PO fulfilment process. If your B2B ERP solution is integrated with a purpose-built tool that can read the PO, interpret it, validate it, and create an internal sales order, you can eliminate the manual data entry and human error. Not only that, but you can free up your team to focus on more high-value tasks.
I: Automation is cost-effective and saves money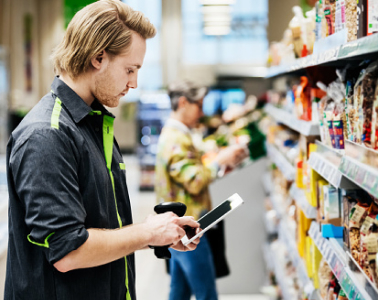 You've heard the saying "time is money" and when you automate your PO fulfilment process, you speed it up. The faster and more accurately you can process POs, the more time and money you'll save.
II: Automation helps workflow efficiency
Automating any repetitive process typically prevents bottlenecks, and in the case of PO fulfilment, can streamline the whole order-to-cash cycle. Notifying warehouse, dispatch or finance teams in real-time so that they're seeing the sales order as soon as the PO comes in, provides greater visibility and efficiencies. They can manage their own processes and budgets more effectively.

III: Automation increases productivity
Automating the PO to SO (sales order) process lets your team keep an eye on customer orders with just a few clicks, while the automation does the heavy lifting. They're no longer having to waste valuable time deciphering data and fixing errors. In a nutshell, they're getting more done in less time. This allows for greater productivity on higher value tasks; if they're not wasting time with manual data entry, they can focus on other jobs that automation can't help with - and in the era of the great resignation, job satisfaction is more important than ever.
IV: Automation means continual improvement
The kind of tech that's behind PO processing automation is innovative. It's always learning, which means it's continually improving the process. This is due to machine learning (ML), which learns business rules, recognises regular customers and their ordering behaviour and checks what they are ordering is correct. This reduces back and forth communication between your customer and your team manually checking orders each time. It also opens the sales conversation around new products and cross-sell opportunities.
V: Automation provides a competitive advantage
When your PO fulfilment process is automated, your organisation gains a competitive advantage in terms of providing an enhanced customer experience. There's greater accuracy in delivery, reduction – even elimination – of errors, which leads to more accurate order fulfilment, stock levels, reporting and financial information across the board.
And of course, your customers are getting exactly what they ordered, quickly - and in an ever-changing landscape of customer expectations, it's an essential part of keeping yours happy and loyal.
As you can see, automating the PO fulfilment process has advantages beyond simply saving admin time at the PO processing stage. You're putting an end to the chaotic email threads and PDFs that have been incorrectly formatted, time spent on manual data entry, and time spent chasing and fixing errors. When you automate this stage of the order process, you'll make life much easier for your team and boost the customer experience. What's not to like?
Our automated order processing solution, Lucy, has been designed specifically to streamline your order processing and eliminate manual data entry. Get all the details about B2B sales order automation here.